Zarah さんにインタビュー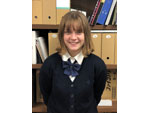 O'Connor: Please introduce yourself.
Zarah: My name is Zarah Sobania and I'm from Germany. I live in Berlin and I'm 16 years old.


O'C: What is Berlin famous for?
Zarah: It's famous for the Berlin Wall, of course. Also, between East and West Berlin there is a gate called the Brandenberg Gate. Berlin is famous for that - if you see postcards you'll often see that.


O'C: Why did you decide to come to Japan?
Zarah: Because I thought, and I still think, it's amazing. I've wanted to come to Japan since I was 12 years old.


O'C: What culture did you know or like before you came here?
Zarah: I guess, Japanese culture like temples or shrines. I like the traditional culture. I also like manga but I wouldn't say that's my reason. I also did kendo in Germany so my sensei and sempai always talked about Japan so I've wanted to go since then.


O'C: What do you like about Japanese culture now?
Zarah: The food. I love everything!! Osechi was really good - I liked the datemaki and the kamaboko. Also sushi and tempura. It's so good.


O'C: Did you experience any culture shock?
Zarah: A lot, actually. Schools are completely different. Like, the girls here say boys are kowai. I was thinking "huh? human janai?" I guess that was the biggest culture shock.


O'C: What was your favourite event here at school?
Zarah: Maybe the chorus contest. We practiced a lot - after school, lunch time and that. But the day of the performance was just beautiful. I forgot the name but it was a Japanese sone and was so nice The chuyasai was so good too. Everyone was so happy any had fun it was nice to see everyone having fun


O'C: What did you like about daily life here at school?
Zarah: Lunch time - because that's time with friends because we talked about so much. I always ate with friends in my classroom.


O'C: How did you make friends?
Zarah: I don't know, I guess I just talked with them. When we walked to reihai we talked and the girl I sit next to in reihai she's now my best friend. We have a lot on common so it's good.


O'C: Was if difficult to be an exchange student?
Zarah: If you don't like something you cat just go back home because home is so far. You have to gaman.


O'C: How did you get so good at Japanese?
Zarah: Just talking a lot. Yeah, that's the only reason. I didn't really study much.


O'C: Do you have a favourite word or phrase?
Zarah: Hmm…I don't know. Maybeこころ- it sounds cute.


O'C: What did you learn about yourself while being on exchange?
Zarah: I got to know some sides of myself I didn't know. I found that I can change.


O'C: Do you have a message for the students here at FGS?
Zarah: Go your own way! That's what I would say!