Global Voices 国際交流
Language Center Blog 過去の記事一覧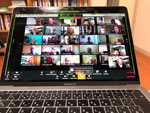 2020.7.7

Online lessons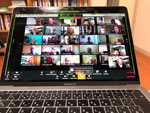 The midterm exams have started here at FGS. We have only been back at school for about one month but everyone has worked really hard. During the lockdown period we spent a lot of time on self-study assignments for the junior high school students and online lessons for the high school students. It wasn't perfect but it worked well because everyone worked together to overcome problems that came up. It's certainly times like this that make me happy I'm part of the Quaker community.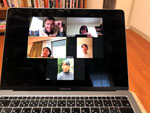 At the start of the lockdown I joined a video conference with about 50 Australian Quakers to learn how to use video conferencing systems to connect with students. We learned about the different ways to use that platform as a way to teach classes. I also had daily video contact with many different FGS teachers, and teacher friends who teach in different schools or universities around Tokyo. We all worked together to see if it would be possible to use video platforms for live lessons with our students. It was fun to connect with so many different people and in the end I was able to use such systems to teach all my high school classes. Of course, being together face to face is so much better, but the online classes allowed us to be in touch and to support each other in this uncertain time as well as start our studies.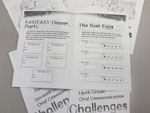 The junior high school students completed challenges which ranged from reflective writings to cooking challenges. This gave them the opportunity to do independent study, feel a sense of discovery with their studies and help their parents while practicing a life skill. It wasn't an easy time for anyone but I was happy to have allowed my students the chance to take a breath and see the good around them — a safe place to be during the lockdown, nutritious food, the support of friends and teachers through online platforms.

 There's still a lot of risk and uncertainty out there so be sure to stay safe.



普連土学園では中間試験が始まりました。学校に戻っておよそ1ヶ月ですが、みんな一生懸命にがんばってくれました。ロックダウン期間中、普連土のランゲージセンターは中学生向けの自習課題配信と高校生向けのオンラインレッスンを行いました。
 ロックダウンが始まってすぐに、私はオーストラリアのクエーカーたちとビデオ会議システムの研究会に参加しました。その後、普連土の先生たちや他の学校に勤めている友人たちみんなで協力してビデオ会議システムを使った効果的な教え方を見つけ、オンラインで高校の授業が出来るようになりました。
 中学生はまた違う方法で勉強しました。ロックダウンはつらい期間であることでしょう。そのような中学生のためにチャレンジ課題を用意しました。このチャレンジは英文の練習に加え、例えば感謝したい人にメッセージを書く、メンタルヘルスのために瞑想の時間を取って日の出を見る、沈黙の時間を取るなどです。
 現在もまだ多くのリスクと不確実な状態が続いています。安全を確保してくださいね。一緒に頑張ったら、きっと大丈夫だと思います。

Global Voices 国際交流
普連土学園では、海外との交流は決して特別なことではありません。今までも、今も、そしてこれからもますます、普連土学園の生徒は色々な国で学び、様々な国の生徒が普連土学園を訪れることでしょう。また海外に普連土学園を支えてくれる学校や、フレンド派の施設が数々存在し、その先生たちとの交流も私たちの教育に大切な役割をはたしています。さらに多くの卒業生が、普連土学園で学んだことを土台とし、海外で活躍しています。このような人たちからの便りは、私たちにとってなにより励みとなるものです。皆様にもその声をご紹介したいと思います。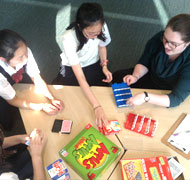 世界に羽ばたく
アメリカの学校生活<授業>
高校3年
熊澤佑香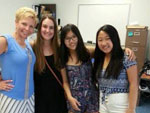 私はAFSと いう機関を通して、アメリカのニューヨーク州に約一年間留学しました。
 アメリカの学校では、毎朝「忠誠の誓い」といって、クラスの皆が立ち上がって、各教室にあるアメリカ国旗に向かい右手を左胸に当て文句を唱えて一日が始まります。

 私の時間割は このような感じでした。(英語、美術、米国史、昼食、Acting、マネジメント/ビジネス、スペイン語、体育)日本のように生 徒はクラスにずっといて先生が教室に来るのではなく、生徒が先生の部屋をまわるというシステムです。授業の選択も、必修の科目もありますが、それ以外はすごく自由で、日本にはないユニークな科目がたくさんありました。例えば、私が取っていたActingというクラスでは、演技をしたり、人前でスピーチをしたりしました。
 他にも、ギターを習うクラス、写真の取り方を習うクラス、クッキング、ファッション、犯罪について学び、実際に刑務所に行ったりするクラスなどです。このようにバラエティ豊かで、また興味のあるものを絞ってより深く学べるシステムはとても魅力的でした。

 また、アメリカの授業の特徴は、日本でよく見られる受け身の授業ではなく、生徒が積極的に授業で発言したりディベートに参加するという所で す。米国史の授業で第二次世界大戦について習っていて、神風特攻隊や原爆についての話をしていた時がありました。私は一人の日本人として、アメリカが原爆を落としたこと を日本ではどのように教えているのか、私はどう思うのかを聞かれ、私もまたアメリカ人のクラスメートの意見を聞く事ができた貴重な経験でした。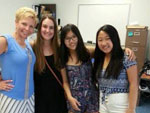 World Friends
ファレズさんにインタビュー
2019年度 AFS長期留学生
Maria Juarez(高2) / Sinéad O' Connor (英語科)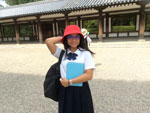 O'C: Please introduce yourself.
MJ: My name is Maria Juarez and I'm a student from the countryside of Panama, a province called Veraguas. I'm 18 years old.

O'C: What is your hometown famous for?
MJ: So we're Catholic, that's the official religion in Panama and every town has a saint and my town's saint is Santiago - that's why my city is called Santiago. We have a celebration for that in my town. It's a very particular Spanish culture, it's not about food but about the saint. I also think my town is famous for it's geographical position. So the name Veraguas means 'looking at water' and that territory is the only territory that touches both the Pacific Ocean and the Caribbean Sea so no other province or country in America has direct access to both like that.

O'C: Why did you decide to study abroad?
MJ: I thought studying abroad was going to help me grow and I wanted to experience different things, so living abroad was a challenge that I wanted to be able to get through. Of course I wanted to meet new people and know how other societies work so I can become openminded. I've grown a lot personally - I am now very independent and can take more care of things like managing time or money. I take responsibility for myself as I don't have my mom here.

O'C: What Japanese culture did you know before coming here?
Mj: For Latin Americans Japan is a very organized country, we can't really distinguish between Japan, China or Korea but we know Japanese people really work hard and have a lot of discipline. We know a lot of your companies and brands like Toyota, Suzuki, and of course food like sushi is very famous. We think you eat very well, very healthily and we admire that very much.

O'C: What do you like about Japan now?
MJ: There are many things I like. At first it was hard but now I realize that even though the lifestyle is tough and busy that makes Tokyo such an important and central place so you can find everything here. Everything is so convenient, it's not so close but it's all in Tokyo. I love the imagination and creation of a lot of museums and planetaria because there aren't so many of these in my country.

O'C: Did you experience any culture shock?
MJ: I was very surprised at trying to understand simple traditional things like taking off your shoes and sometimes the dress style of Japanese people is different - we as Latin Americans wear shorts and clothes that for Japanese people are very revealing or show too much skin. For us it's normal but for Japanese people it's probably not ok to wear that. Also after we eat we say gochisousamadeshita or when we get home we say tadaima. Of course I did it from the first day but I was sure to ask many questions so I could understand it and make it a natural habit rather than just following it because I had to. I learned to respect these rules and traditions.

O'C: At school this year there were many events, what was your favorite?
MJ: The school trip! It's really different because it's more educational than a school trip in Panama. I liked it because I could go with my friends and visit really old buildings and know their history and appreciate that history and culture and how people really respect that is something I like.

O'C: What did you like about daily life here at school?
MJ: Daily life was good, I like how people can really focus on things. I was really surprised at how people get into studying and how dedicated they are to tasks or chores and have basically have the skills to manage their time well. I noticed that they can talk with their friends and still get work done. I tried to learn to be like that too so I picked up some habits like that from my friends.

O'C: How did you make friends at school?
MJ: Friends School is a girls school so most people are kind shy but I think the best way was being myself and not to close myself off - saying hello to everyone I see even at first when I didn't understand. It was really funny to try to communicate and at that time you really get to know. In the end I could connect with a lot of people.

O'C: How did you come to be good at Japanese?
MJ: Studying! But also using Japanese. I remember when I got here first one of my friends told me she was not going to speak English to me. I couldn't speak Japanese so i used English but she always responded in Japanese and if I didn't understand she preferred to explain the word in simpler Japanese rather than to say it in English. Also my Japanese teacher was really good. My classes were really effective because I had such a good relationship with her. We could have special moments and enjoy time in class instead of just studying and studying.

O'C: Do you have a favorite Japanese word or phrase?
MJ: 人格形成 - it's like personal growth. I think I got to that word because I was giving a speech. I like it because it is one word whereas in English or Spanish you need a whole phrase not just one word to express that idea. It's not only beautiful but it signifies my life and motivations here in Japan.

O'C: Do you have a message for us?
MJ: Just, thank you. All schools are different and exchange students are different so everyone has a different experience, but I think coming here was great because all the teachers and girls do a great job. They made me feel comfortable and tried to understand my culture and truly spend time with me. I feel like you belong here, like in a family. Of course, being in Japan changes exchange students but I think the exchange students also change the country or culture they are in.