Global Voices 国際交流
Language Center Blog 過去の記事一覧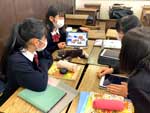 2022.8.27

7th Grade Curiosity / 中学1年生の好奇心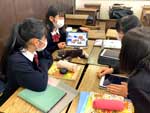 Writer William Arthur Ward is accredited with the quote "curiosity is the wick in the candle of learning." This is a quote that I really quite like. I like the imagery of lighting a candle and then it brings brightly and brilliantly. As I teacher I enjoy seeing the light burn brightly and brilliantly within my students. It's an image, and idea, that I really try to stay true to when I plan activities for my classes. Sometimes I'm successful, and sometimes I'm not.
 Recently, though, we had aver successful activity in the 7th grade class. The students made groups, chose a country, and then chose a festival within that country to research. They would then be responsible for teaching new groups about their country and festival. I was firstly impressed with he range of countries the students chose. Of course we got the usual France and Italy, but we also some students who were interested in Ghana, and Tonga. They had 2 class periods to research, and put their ideas into English. Then, the third class period they would share with others what they had learned. I was really happy to see how motivated and invested the students were, and also how well they taught their new group mates about their research, especially since they were given no time to memorize and they were not allowed to read their research.
 Since they had been able to choose what to research and since they truly wanted to share what they had learned the activity was huge success and I'm sure the students will remember some of the country facts for a long time. This is another example of the authentic communication we value in our English classes.


作家ウィリアム・アーサー・ウォードは「好奇心。これこそが学習というロウソクの芯になる。」という名言で知られています。私はこの名言をとても気に入っていて、ロウソクの光とそれが生み出す明るさとキラキラしたイメージが好きです。教師として、生徒たちの中に明るくキラキラと燃える光を見ることは良いものです。これは私が授業のためにアクティビティを準備するときにとても大事にしたいと思うイメージであり、アイデアですが、上手くいくときもそうでないときもあります。
 そうは言ってもこの間中学1年生の授業においてとてもいいアクティビティを行うことが出来ました。生徒はグループになって1つ国を選びその国の祭りについて調べ、他のグループに教えます。まず私は生徒たちが選んだ国の多様さに驚きました。フランスやイタリアなどの国に加えてガーナやトンガのような国に興味を持った生徒もいたのです。彼らは授業を2時間使ってリサーチをし、アイデアを英語でまとめ、そして3時間目に学んだことを互いに共有し合いました。彼らには暗記をする時間は無く、また原稿を読んではいけなかったのにも関わらず、生徒たちのやる気に溢れ、積極的に授業に参加する様子や自分のリサーチについて他のグループのメンバーに上手に説明する様子を見てとても嬉しくなりました。
 彼らがリサーチする国を自由に選ぶことができ、また、彼ら自身が調べたことを共有したいと心から思っていたからこそこの活動が大きな成功となったのでしょう。そして生徒たちはこれからも学んだことのいくつかを覚えていてくれることでしょう。これは私たちが本校の英語授業において大切にしている本物のコミュニケーションの一例に他なりません。   
Translated by R.W 高3
Global Voices 国際交流
普連土学園では、海外との交流は決して特別なことではありません。今までも、今も、そしてこれからもますます、普連土学園の生徒は色々な国で学び、様々な国の生徒が普連土学園を訪れることでしょう。また海外に普連土学園を支えてくれる学校や、フレンド派の施設が数々存在し、その先生たちとの交流も私たちの教育に大切な役割をはたしています。さらに多くの卒業生が、普連土学園で学んだことを土台とし、海外で活躍しています。このような人たちからの便りは、私たちにとってなにより励みとなるものです。皆様にもその声をご紹介したいと思います。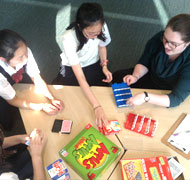 世界に羽ばたく
フィンランドに長期留学
高校3年
佐藤 咲耶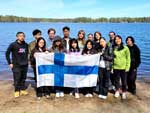 私はAFSという留学機関を通してフィンランドに10ヶ月間の長期留学をしています。私はNivalaという人口約1万人の小さな村にホームステイをしていて、移動には車が必須で学校には車で15分かかります。生まれてからずっと東京に住んでいる私には不便ですが、留学が始まったばかりの時は毎日が新しいことの連続で楽しかったのを覚えています。

 フィンランドの学校は、毎日開始時間が違い選択科目によって8時始まりだったり、10時始まりだったりします。これは帰宅時間も同様で、10時始まりで14時終わりという日もあったりします。
授業は基本パソコンを使っていて日本のような紙を使った授業はほとんどありませんでした。フィンランドにもテストの週があ流のですが、テストも全てパソコンを使って行われていてとても進んでいます。さらに、携帯の使用も許されていたり、空きコマにはスーパーに行って買い物をしたりととても自由です。
また、学校がとても早く終わるので放課後は自分の趣味や家族との時間に使う人が多いです。

 そのため、友達作りはとても難しかったです。フィンランド人は素晴らしい英語力を持っているのにとてもシャイなので仲良くなるのがとても大変でした。さらにできることが何もない村なので、遊ぶ予定を立てるとドライブか森でソーセージを焼くことしかなく、日々東京との違いを感じて新鮮でした。
 留学生活では楽しいことと同じくらい辛いことや大変なことがありましたが、私はこの10ヶ月間に沢山のことを経験できたことをとても嬉しく思います。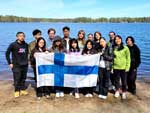 World Friends
留学生からのメッセージ
(英語科)
Sinéad O' Connor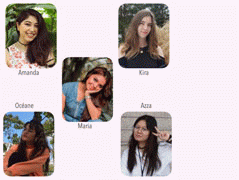 Here at Friends School we really value making connections and building friendships with people from all around the world. We have biannual visits from students in our sister school, The Friends School Hobart, Tasmania. We have exchange students from AFS and Rotary join our school for a long term program. We often have Quaker guests from many different countries visit us for varying lengths of time. We have occasionally had video chats with past exchange students or with the pupils at the Statehouse Girls School in Kenya. Sadly, in the school year 2019 - 2020 we weren't able to host any students due to the ongoing pandemic. This also saw our video chats and other events get put on hiatus to avoid close contact situations. While I'm hopeful things are going to get better and we will once again have the opportunity to embrace these experiences I think it will take some time. Until then, let's look back at some of our past exchange students who have kindly sent messages to us this month.


---
Amanda Ferreira Kato is from Brazil. She was a student with us for 10 months during the school year 2012-2013
She was a member of the pottery club.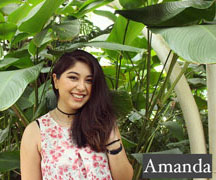 "Hello everyone!

My memories from Japan and the school are still some of my favorites, it was definitely one of the best years of my life, and one I'll never forget. Right now I'm working on my Masters degree, researching about pathogenic fungi and the human immune response. Lately I've been studying Japanese again, because I don't use it here, I ended up forgetting most of it, but it's slowly coming back to me, and it's been really fun to remember!

Best wishes, Amanda"


---
Kira Binkley is from Indiana in The United States of America. She was a student with us during the school year 2015-2016
Kira was a member of the tea ceremony club and pottery club. When Kira was back in Japan on vacation she surprised us with a visit. She joined some of our high school classes as a guest. It was fun to catch up with her.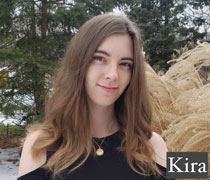 "Hi all,

I'm currently taking time off of school to help take care of my family, but I am pursuing a business degree. As for using Japanese, it's hard to continue by myself, but I try to study every now and then.
I'll always remember the memories and friends I made at FGS. Even in these hard times, I hope you all make the best of your time at school, and carry all those memories with you into the future.

Take care, Kira"


---
Océane Boucault is from France. She was with us for 10 months during the school year 2016 - 2017. Océane was a member of the volleyball club and very popular with all the students. We have had quite a few video chats with Océane since she went back to France and she surprised us with a visit when she came back to Japan for summer vacation a year or two ago.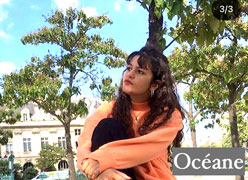 "Hi everyone!

I'm Océane but while I was in Japan everybody called me オセ. Right now I'm taking a gap year to earn some money because I'm planning on moving to Japan soon. I'm also studying to pass the 日本語能力試験 N2 exam. I'm an AFS volunteer in France so I get to use Japanese sometimes.

私は今年22歳になります、高校生にとしてはだいぶお姉さんかなぁー、まだまだ全然時間ありますけどやっぱり高校時代が一番恋しいだと思いますから今の生徒にいっぱい楽しんで、いろんなことに気を持って、好きなものを調べてと伝えたいです、今が一番自由な時だと思いますのでコロナがあっても高校時代を楽しんでくださいね。~オセ"


---
Noorazzalina 'Azza' Gazali is a student from Malaysia. She was one of three exchange students here in 2018. Azza was a valued member of ESS and the Japanese Sign Language Club.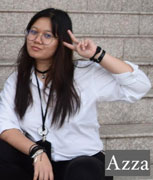 "Hi guys,

I'm currently in my first year of a university degree program. I don't really use Japanese since I don't really have any Japanese friends to talk to but I do say あれ a lot even now, like when I'm looking for something, or when I'm confused. みんなさんに伝いたいことですが、勉強は全部じゃない! 人生を楽しみましょう! 頑張れ!

See you again, Azza"


---
Maria Y. Juarez is a student from Panama, and she was our most recent exchange student. She was here for 10 months from March 2019. Maria was a member of the tennis club and the art club. We had the honor of seeing traditional Panamanian clothing and dance at the school festival thanks to Maria. It was such a lucky thing.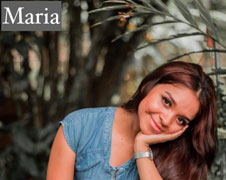 "Hello FGS!

Now, I'm in my 3rd semester of a medical bachelor degree. I still try to practice or at least see Japanese movies, not many people can speak Japanese here so that's a big achievement for me. I will always be so thankful for the opportunity and experience to be part of FGS. Students and Staff, you were so kind to me and without all your support things wouldn't have been so great. I will always remember my teachers, classmates and everyone who I got to meet and I wish just the best for each one of you, you will be always in my heart.
私の日本で留学の経験は完璧でした。皆さんありがとうございました!

All my best, Maria"