Global Voices 国際交流
Language Center Blog 過去の記事一覧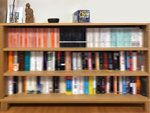 2021.3.29

World Book Day 2021 / ワールドブックデー2021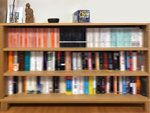 Recently I saw online that my friends and family were celebrating World Book Day. My friends' children dressed as their favorite character. I enjoyed seeing the pictures, they looked like they were having fun. I love to read — it's one of my favorite things to do. In our school English curricula we make a point of giving the students time and access to stories and books. Of course students need to learn reading skills for exams, but I think reading for pleasure can be just as important. It not only helps students to develop critical thinking skills, improve vocabulary, and build better grammar awareness but also builds empathy, social skills and communication skills.

 In the 10th grade lessons we focus on fairytales in first semester and short children's stories based on real life in second semester. It's a wonderful way to make ideas like childhood, imagination, and morals acceptable, as well as cultural differences and similarities, and social issues.
In the junior high school students have 20 minutes a week in the Reading Zone. There, they are able to choose a book of their liking and read it silently. Once they have finished reading they go talk to the teacher about it. This year the 9th graders are very interested in the science books, whereas the 8th graders are more interested in folk tales from other countries.

 I feel that books are a vital part of life — they allow us access to worlds and experiences we can never experience in our true lifetimes. There is a famous quote by an author named George R.R. Martin that says, "A reader lives a thousand lives before he dies. The man who never reads lives only one." This is something I often thing about and hope to bring to my students.

最近、私はオンラインで友人とその家族がワールドブックデーを祝っているのを見かけました。私も読書が好きで、読書は趣味の1つです。私たちの学校の英語のカリキュラムでは生徒が物語や本に触れる時間を作っています。もちろん、生徒たちには試験のためのリーディングのスキルが必要です。しかし、私は娯楽としての読書も同様に大切だと思います。読書は生徒たちがクリティカルシンキングのスキルを伸ばしたり、語彙を増やしたり、文法への意識をより高めたりすることを助けるからです。
実際、高校1年生の授業では、おとぎ話や物語に焦点を当てて授業を行っています。中学生は週に1回好きな本を読み、内容を要約したうえで教員に説明する活動を行っています。
 本は人生において不可欠なものだと思います。本は私たちの真の人生の時間では経験できない世界や体験をもたらしてくれます。ジョージ.R.R.マーティンという作家による有名な言葉にこのようなものがあります。「読書家は死ぬまでに何千もの人生を生きる。しかし読書をしない者はたった1つの人生しか生きられない」
Translated by H.S  127回生
Global Voices 国際交流
普連土学園では、海外との交流は決して特別なことではありません。今までも、今も、そしてこれからもますます、普連土学園の生徒は色々な国で学び、様々な国の生徒が普連土学園を訪れることでしょう。また海外に普連土学園を支えてくれる学校や、フレンド派の施設が数々存在し、その先生たちとの交流も私たちの教育に大切な役割をはたしています。さらに多くの卒業生が、普連土学園で学んだことを土台とし、海外で活躍しています。このような人たちからの便りは、私たちにとってなにより励みとなるものです。皆様にもその声をご紹介したいと思います。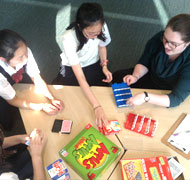 世界に羽ばたく
アメリカの学校生活<授業>
高校3年
熊澤佑香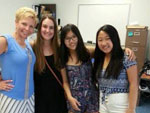 私はAFSと いう機関を通して、アメリカのニューヨーク州に約一年間留学しました。
 アメリカの学校では、毎朝「忠誠の誓い」といって、クラスの皆が立ち上がって、各教室にあるアメリカ国旗に向かい右手を左胸に当て文句を唱えて一日が始まります。

 私の時間割は このような感じでした。(英語、美術、米国史、昼食、Acting、マネジメント/ビジネス、スペイン語、体育)日本のように生 徒はクラスにずっといて先生が教室に来るのではなく、生徒が先生の部屋をまわるというシステムです。授業の選択も、必修の科目もありますが、それ以外はすごく自由で、日本にはないユニークな科目がたくさんありました。例えば、私が取っていたActingというクラスでは、演技をしたり、人前でスピーチをしたりしました。
 他にも、ギターを習うクラス、写真の取り方を習うクラス、クッキング、ファッション、犯罪について学び、実際に刑務所に行ったりするクラスなどです。このようにバラエティ豊かで、また興味のあるものを絞ってより深く学べるシステムはとても魅力的でした。

 また、アメリカの授業の特徴は、日本でよく見られる受け身の授業ではなく、生徒が積極的に授業で発言したりディベートに参加するという所で す。米国史の授業で第二次世界大戦について習っていて、神風特攻隊や原爆についての話をしていた時がありました。私は一人の日本人として、アメリカが原爆を落としたこと を日本ではどのように教えているのか、私はどう思うのかを聞かれ、私もまたアメリカ人のクラスメートの意見を聞く事ができた貴重な経験でした。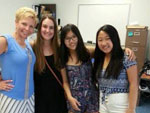 World Friends
留学生からのメッセージ
(英語科)
Sinéad O' Connor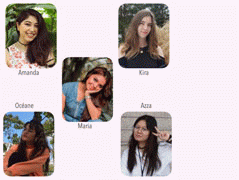 Here at Friends School we really value making connections and building friendships with people from all around the world. We have biannual visits from students in our sister school, The Friends School Hobart, Tasmania. We have exchange students from AFS and Rotary join our school for a long term program. We often have Quaker guests from many different countries visit us for varying lengths of time. We have occasionally had video chats with past exchange students or with the pupils at the Statehouse Girls School in Kenya. Sadly, in the school year 2019 - 2020 we weren't able to host any students due to the ongoing pandemic. This also saw our video chats and other events get put on hiatus to avoid close contact situations. While I'm hopeful things are going to get better and we will once again have the opportunity to embrace these experiences I think it will take some time. Until then, let's look back at some of our past exchange students who have kindly sent messages to us this month.


---
Amanda Ferreira Kato is from Brazil. She was a student with us for 10 months during the school year 2012-2013
She was a member of the pottery club.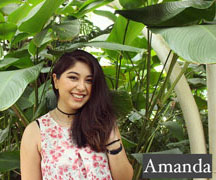 "Hello everyone!

My memories from Japan and the school are still some of my favorites, it was definitely one of the best years of my life, and one I'll never forget. Right now I'm working on my Masters degree, researching about pathogenic fungi and the human immune response. Lately I've been studying Japanese again, because I don't use it here, I ended up forgetting most of it, but it's slowly coming back to me, and it's been really fun to remember!

Best wishes, Amanda"


---
Kira Binkley is from Indiana in The United States of America. She was a student with us during the school year 2015-2016
Kira was a member of the tea ceremony club and pottery club. When Kira was back in Japan on vacation she surprised us with a visit. She joined some of our high school classes as a guest. It was fun to catch up with her.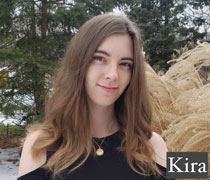 "Hi all,

I'm currently taking time off of school to help take care of my family, but I am pursuing a business degree. As for using Japanese, it's hard to continue by myself, but I try to study every now and then.
I'll always remember the memories and friends I made at FGS. Even in these hard times, I hope you all make the best of your time at school, and carry all those memories with you into the future.

Take care, Kira"


---
Océane Boucault is from France. She was with us for 10 months during the school year 2016 - 2017. Océane was a member of the volleyball club and very popular with all the students. We have had quite a few video chats with Océane since she went back to France and she surprised us with a visit when she came back to Japan for summer vacation a year or to ago.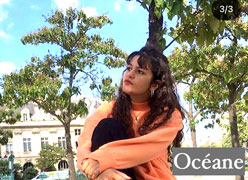 "Hi everyone!

I'm Océane but while I was in Japan everybody called me オセ. Right now I'm taking a gap year to earn some money because I'm planning on moving to Japan soon. I'm also studying to pass the 日本語能力試験 N2 exam. I'm an AFS volunteer in France so I get to use Japanese sometimes.

私は今年22歳になります、高校生にとしてはだいぶお姉さんかなぁー、まだまだ全然時間ありますけどやっぱり高校時代が一番恋しいだと思いますから今の生徒にいっぱい楽しんで、いろんなことに気を持って、好きなものを調べてと伝えたいです、今が一番自由な時だと思いますのでコロナがあっても高校時代を楽しんでくださいね。~オセ"


---
Noorazzalina 'Azza' Gazali is a student from Malaysia. She was one of three exchange students here in 2018. Azza was a valued member of ESS and the Japanese Sign Language Club.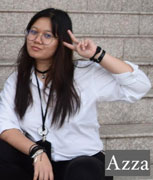 "Hi guys,

I'm currently in my first year of a university degree program. I don't really use Japanese since I don't really have any Japanese friends to talk to but I do say あれ a lot even now, like when I'm looking for something, or when I'm confused. みんなさんに伝いたいことですが、勉強は全部じゃない! 人生を楽しみましょう! 頑張れ!

See you again, Azza"


---
Maria Y. Juarez is a student from Panama, and she was our most recent exchange student. She was here for 10 months from March 2019. Maria was a member of the tennis club and the art club. We had the honor of seeing traditional Panamanian clothing and dance at the school festival thanks to Maria. It was such a lucky thing.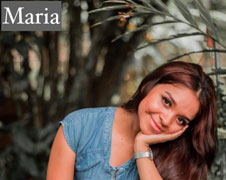 "Hello FGS!

Now, I'm in my 3rd semester of a medical bachelor degree. I still try to practice or at least see Japanese movies, not many people can speak Japanese here so that's a big achievement for me. I will always be so thankful for the opportunity and experience to be part of FGS. Students and Staff, you were so kind to me and without all your support things wouldn't have been so great. I will always remember my teachers, classmates and everyone who I got to meet and I wish just the best for each one of you, you will be always in my heart.
私の日本で留学の経験は完璧でした。皆さんありがとうございました!

All my best, Maria"