The Exchange Student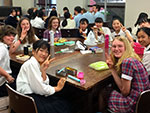 Every Thursday we have worship in the classrooms. Two students make a speech, we sing some hymns, collect money for donations and practice reciting some Bible verses.

 This morning I went to 1C for morning worship. One of the students, Ms. T, talked about the exchange student she hosted from Hobart. Hobart is our sister school in Tasmania, Australia and a few weeks ago they visited us here in Tokyo. They stayed for 4 days. Ms T said that when she took the host family application information home she thought it wasn't something that concerned her. However, her father said that it might be interesting and fun to host a student so they applied. Ms T was really uneasy because she felt her English wasn't good enough. However, during the four days they hosted she learned that it doesn't really matter how perfect your English is, at first you just need to focus on communicating. If you do that everything will be ok because the important points always get understood. By the end of the exchange she was sad to say goodbye to her new friend and brother from Hobart, Jayden. She said even though it was difficult at first, hosting a sister school student was a great opportunity for her and her family and recommended us all to do it sometime.

 The photo you see was taken at the farewell lunch we had a school.